Extra Virgin Olive Oil
Certified Extra Virgin- Organic Estate Grown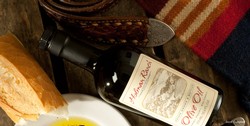 Estate-grown and bottle olive from our Tuscan varietal olive trees. Cold pressed and extra virgin certified, this oil is golden and buttery with a hint of spice on the back end. Enjoy with your favorite breads and cheeses. An excellent base of a healthy, homemade salad dressing.
Product Reviews
Patti Dukemajian
(Jan 9, 2017 at 3:01 PM)
We had the olive oil at the Holman Ranch tasting room in lovely Carmel Valley with some warm bread, and it was fantastic! They make it themselves from 100 olive trees they have on the Holman Ranch property and its certified extra virgin which is good because of all the fake "extra virgin" olive oil coming from Europe. We bought 3 bottles because we don't know when we'll be able to come up to visit again. Highly recommended!