'14 - Jarman Pinot Noir
Estate Grown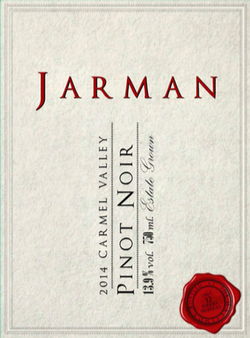 Our second take on Jarman Pinot Noir starts with a beautifly aromatic nose, full of baking spices and a velvety softness. At first sip, you'll be bathed in rich warmth as flavors of cassis and blackberry jam mingle together and cravings of freshly baked pastry swirl in your mind. This 2014 Pinot Noir can be enjoyed now and will only get better with age.
Wine Specs
Appellation
Carmel Valley
Product Reviews
Catalina
(Oct 22, 2016 at 12:29 PM)
Jarman is the best !
Kelsey Boyle
(Dec 4, 2016 at 2:04 PM)
The description of this wine says that it "will only get better with age". I do not doubt that, but the wine taste so good that I want to drink it right away!
Catalina
(Dec 10, 2016 at 4:25 PM)
Subtle and pleasant with a hint of earthiness . Very good at any time.