'13 - Will's Fargo - Rustler's Rouge
Estate Grown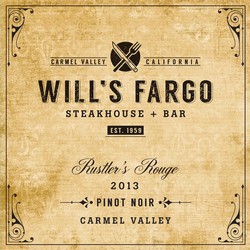 Wine Specs
Appellation
Carmel Valley
Product Reviews
Samuel Drucker
(Nov 21, 2016 at 2:46 PM)
This is the wine they serve at Wills Fargo restaurant that Holman Ranch owns, too. It has a very good price point and is a very drinkable wine. We bought more at the Holman Ranch tasting room down the street from the restaurant, and we'll do it again next time we come down.
Win Hou
(Jan 9, 2017 at 2:55 PM)
We had the Holman Ranch rustler's rouge at Wills Fargo restaurant (not Wells Fargo) this afternoon. This is a very good wine for a restaurant wine, and the price is good, too. Too bad they don't sell it in stores, but the manager, who was very nice, said you can get it at their tasting room just down the road. Needless to say, we did!