2013 Jarman Pinot Noir
Estate Grown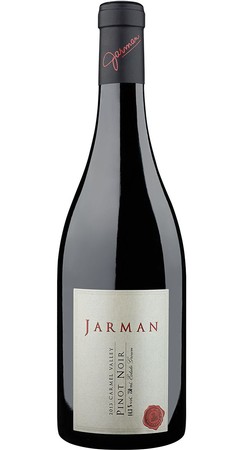 The 2013 Jarman Pinot Noir takes on nuances of warm blueberry pie, cloves and cinnamon that mingle in the nose with oak notes from 10 months in the barrel. The mouth-feel is plump and juicy with overtones of cassis and blackberries.
Wine Specs
Appellation
Carmel Valley
Product Reviews
Duncan Murray
(Oct 23, 2016 at 5:11 PM)
As good as this wine is now, according to Greg Vita, the winemaker, it will be phenomenal in just two more years. My problem is that I don't know if I can wait that long....
Kelsey Boyle
(Nov 27, 2016 at 4:31 PM)
This wine is absolutely amazing! It is very enjoyable. The Jarman '13 Pinot Noir will not disappoint you. It is a great gift to give. I have given a bottle to friends and family, and they all loved it.
Catalina Ferreto
(Dec 10, 2016 at 4:35 PM)
With Pinot Noir I am looking for perfume, freshness, delicacy, texture and harmony.... I am also looking for that sweet attack at the from of the palate. That's what you can get with this 2013 Jarman Pinot . Warm blueberry pie, cloves and cinnamon . Just love it !