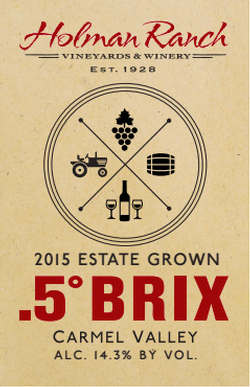 Wine Specs
Appellation
Carmel Valley
Product Reviews
Pendleton Smith
(Oct 24, 2016 at 6:12 PM)
This is an amazing wine! Talk about your smooth, full bodied pinot! A friendly warning, though: if you taste it, you will buy it. Consider yourself warned.
Odessa Grosse
(Nov 14, 2016 at 4:50 PM)
I don't think I ever had a wine I liked as much as this one. It's just a little sweet but not to much like a desert wine, I think it would be very good to drink with just about anything you want to eat, and especially something a little spicy!
Kelsey Boyle
(Dec 4, 2016 at 12:39 PM)
This Pino Gris is absolutely incredible. It is very smooth and easy to drink. It is a has a little bit of a sweet taste to it, but it is not over the top like a dessert wine. The hint of sweetness is what makes this wine so enjoyable. I bought a bottle to take home right after I tried it; I just could not leave the tasting room without this wine!
Catalina Ferreto
(Dec 4, 2016 at 4:46 PM)
Pinot Gris. Like all the Holman Wines. 5 Brix is one of the best. little of dazzling acidity and under ripe peaches. Delicious with a light meal or something spicy!.