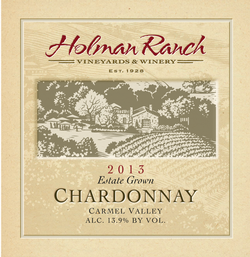 Honeysuckle and Orange Blossom shine in the lead role on the nose. Beautiful notes of Grannysmith Apple and Honeydew do a tango on your tongue as you put your feet up and enjoy our latest Chardonnay creation.
Wine Specs
Appellation
Carmel Valley
Product Reviews
Elsa M.
(Oct 30, 2016 at 5:37 PM)
This is one of the best chardonnay wines I've ever had, mostly because it doesn't have too much oak and no butter, so it's very clean and and fresh tasting which is more than can be said about alot of other California chards that are just overpowered by butter and oak. If I want butter in my chard, I'll just melt some and pour it in but in the meantime I'm going to drink this Holman Ranch estate chardonnay, and it's got a great price-point, too. I'd recommend it to anyone who doesn't like their chardonnay too oaky/buttery!
Kelsey B.
(Dec 4, 2016 at 2:38 PM)
I was not much of a Chardonnay drinker until I tried this one! This Chardonnay is unlike any other Chardonnay I have ever tried before. It does not have much of an oaky/buttery flavor to it, making it my favorite Chardonnay ever! I highly recommend giving this wine a try whether you like Chardonnay or not.