'13 - Big Daddy
Fortified Late Harvest Pinot Noir - Estate Grown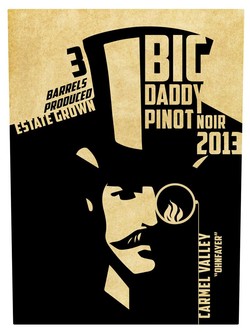 Our first ever Late Harvest Pinot Noir has been a long time in the making. 18 months in neutral French Oak and fortified with high proof brandy, this Big Daddy is warm and robust. Dark Chocolate notes are prominent, but the toast, raspberry jam and coffee notes almost make you want to have it for breakfast.....Hmmmm........
Wine Specs
Appellation
Carmel Valley
Wine Profile
Awards
2016 International Women's Wine Competition Silver Medal
Product Reviews
Bernice Strickland
(Nov 25, 2016 at 12:26 AM)
Visiting the Holman shop, on a visit from the UK we tried this absolutely fantastic wine. Despite the thought of transporting back home we bought a bottle, which was very carefully packed for us. Sometimes when you get a wine home, it's so disappointing. I'm delighted to say, it was just as delicious & we have sparingly shared it with good friends. Just a little drop left to celebrate Christmas!! Thank you Bernice Strickland
Kelsey Boyle
(Nov 27, 2016 at 4:46 PM)
This wine is great. The label is fun, and the taste is phenominal. Big Daddy is robust, and it has a sweet side to it. I like to drink a glass of it while I make brownies. There are a lot of good brownie recipes that include port style wine as an ingredient. Big Daddy is a great touch to the brownies that I have made.
TimothyPlole
(Jun 30, 2017 at 4:31 AM)
301 Moved Permanently 301 Moved Permanently>>>