'10 - Hunter's Cuvee - Estate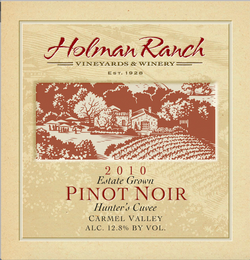 Sweet vanilla bean and strawberry followed by a hint of tannins round out your palate on this wine. Aged in 50% new French oak and 50% neutral French oak for 7 months, this smooth red pairs perfectly with any occasion. The limited quantities are reserved for Club Members only.
Wine Specs
Appellation
Carmel Valley
Product Reviews
Danika L.
(Oct 31, 2016 at 12:45 PM)
Comment I had the opportunity to go to a friend's wedding at the Holman ranch--it is absolutely gorgeous, btw--and on our way out of town we decided to stop by their tasting room in the Carmel Valley village to taste some wine we had at the reception. I don't much go for reds and my husband doesn't much go for whites, so sometimes we have trouble finding something we both like. Anyway, they have some lovely wines like their 2010 Hunter's Cuvee that we had at the wedding, but we found we liked some other pinots they had we liked alot, too, and also a pinot gris blend called "Brix" that is really delicious. I don't think I can recommend their wines highly enough, and my husband and I will be back to try some more first chance we get!